Diving with… Simon Doughty, Volivoli Beach Resort, Rakiraki, Fiji
In this ongoing series, we speak to the people who run dive centres, resorts and liveaboards from around the world about their businesses and the diving they have to offer…
---
What is your name?
Simon Doughty
What is the name of your business?
Volivoli Beach Resort, Rakiraki Fiji Islands.
It is a family owned and operated business. The Darling family, originally from New Zealand found this 'block of land' and over the last 20-years have developed it into Fiji's Premier Dive Resort with clients flocking from around the globe to experience our unique part of heaven.
What is your role within the business?
Sales & Marketing Manager / Dive Operations Manager
How long has the business operated for?
The resort is now in it's 17th  year however the business initially started via our dive arm which is called Ra Divers back in 2000. We have consistently been growing and investing and now as an award winning boutique dive resort are proud to be acknowledged as Fiji's Premier Dive Resort within the global diving community.
How long have you dived for, and what qualification are you?
I have been diving for over 30-years and I am an SSI Instructor Certifier (IC)
What is your favorite type of diving?
I love all diving, I love every dive I do however currently diving the beautiful Bligh Water in Fiji I am never amazed at the amount of incredible diversity of critters and colourful corals that are in our waters. I also love spending time in underwater cave systems and historical shipwrecks when I travel.
If you could tell people one thing about your business (or maybe more!) to make them want to visit you what would it be?
At Volivoli Beach Resort our clients frequently tell us they feel more like family than just a guest, after all Fiji is known as the 'friendliest country on earth' and once a diver experiences the incredible Bligh Water, 'soft coral capital of the world' and Fiji's # 1 Dive Region we know they will be back. We dive the Bligh Water 365-days a year and have 9-regions with over 80-dive sites.
What is your favorite dive in your location and why?
For me I like Cannibals Cave at the moment due to its massive swim-throughs, and canyons, diversity of marine life, massive soft coral decorated walls however my favourite site changes quite regularly. I also love exploring and mapping new sites and of course world-famous sites like Mellow Yellow, Black Magic Mountain and E6 are always something special.
What types of diving are available in your location?
With over 80-mapped sites in 9-regions we certainly have something for almost every diver. Massive sea mounds coming up from 2,000msw to just breaking the surface on low tide, walls and pinnacles, many starting in just 2msw, some bottoming out shallow at 10 or 12msw with others dropping off to 30msw and far beyond. We have 3 House Reefs with super easy walk-in/walk-out access directly in front of the dive shop. The Bligh Water is universally known as not only Fiji's #1 Dive Region and the 'soft coral capital of the world' and the diversity of marine life from the tiniest nudibranch or pigmy sea horse right through to massive schooling pelagic fish and sharks. We have 5 purpose built dive boats and explore the Bligh Water 365-days a year.
What do you find most rewarding about your current role?
I love seeing our guests return multiple times, it says to me we are doing something right, we have a great offer and service, we know they can choose anywhere to travel and dive however returning clients always make me smile.
What is your favorite underwater creature?
Just like dive sites this changes regularly however I think at the moment I would say octopus as they really are a magical creature.
As a center what is the biggest problem you face at the moment?
Currently like everyone else we are struggling with the restrictions around COVID-19 and international travel, this is especially hard on us at 95% of our business comes from overseas and our borders have been closed since 23rd March 2020, so we are well into our 2nd year of essentially no business.
Is your center involved in any environmental work?
Yes absolutely we do a lot of environmental work and also involve the community and local schools in an effort to help pass on and educate our future generations. Some examples of this are mangrove propagation and replanting, we are currently installing a new hard coral nursery with the longer term plan to be able to transplant the maturing coral to other areas within Fiji that are not so well established. We also run events around World Sea Turtle Day, World Environment Day, World Oceans Day and World Clean Up Day and again actively involve the community.
Are there any exciting changes / developments coming up in the near future?
We never stop! During this 'downtime' due to COVID-19 restrictions our construction team have been busy extending our second restaurant and bar, which we call the Ra Bar (we are located in the Ra province of Fiji) on the beach and in the same building as our dive shop. It is magnificent and the perfect place to start a day with coffee and dawn breaking or watch sensational tropical sunset over an ice cold beer or yummy cocktail. We are also part way through constructing our new conference centre which will also be used for photography workshops and classroom with full multimedia and air-conditioned.
How do you see the SCUBA / Freediving / snorkeling industry overall? What changes would you make?
If we currently remove the obvious COVID-19 obstacle the industry appears sound, we are teaching new students, doing lots of specialty courses, our market today may be slightly older than those of the past however SCUBA has few boundaries when it comes to age and our clients of today appear to have more disposable income and the ability to travel the world.
Finally, what would you say to our visitors to promote the diving you have to offer?
Fiji really is an easy sell, magnificent tropical location; the Bligh Water is home to arguably the most vibrant and healthy reef system on the planet, warm water (26⁰c/31⁰c), Fiji is frequently acknowledges at the 'friendliest country on earth' – we have a modern boutique resort, 33 rooms, all with ocean views, fully air-conditioned, 2 restaurants, 3 bars, 5 swimming pools, 5 purpose built dive boats, over 80 dive sites and offer unlimited free of charge diving on our 3 House Reefs 24/7 for anyone staying on a full dive package. Arrive as a guest, leave as a friend!
Where can our visitors find out more about your business?
Our website is www.volivoli.com, we are active on Facebook either at Volivoli Beach or Ra Divers and Instagram volivoli_beach_resort – you can contact us directly via email res@volivoli.com or call + 679 992 0942 or our US office audrey@volivoli.com
Tourism Fiji celebrates Open for Happiness Campaign (Watch Trailer)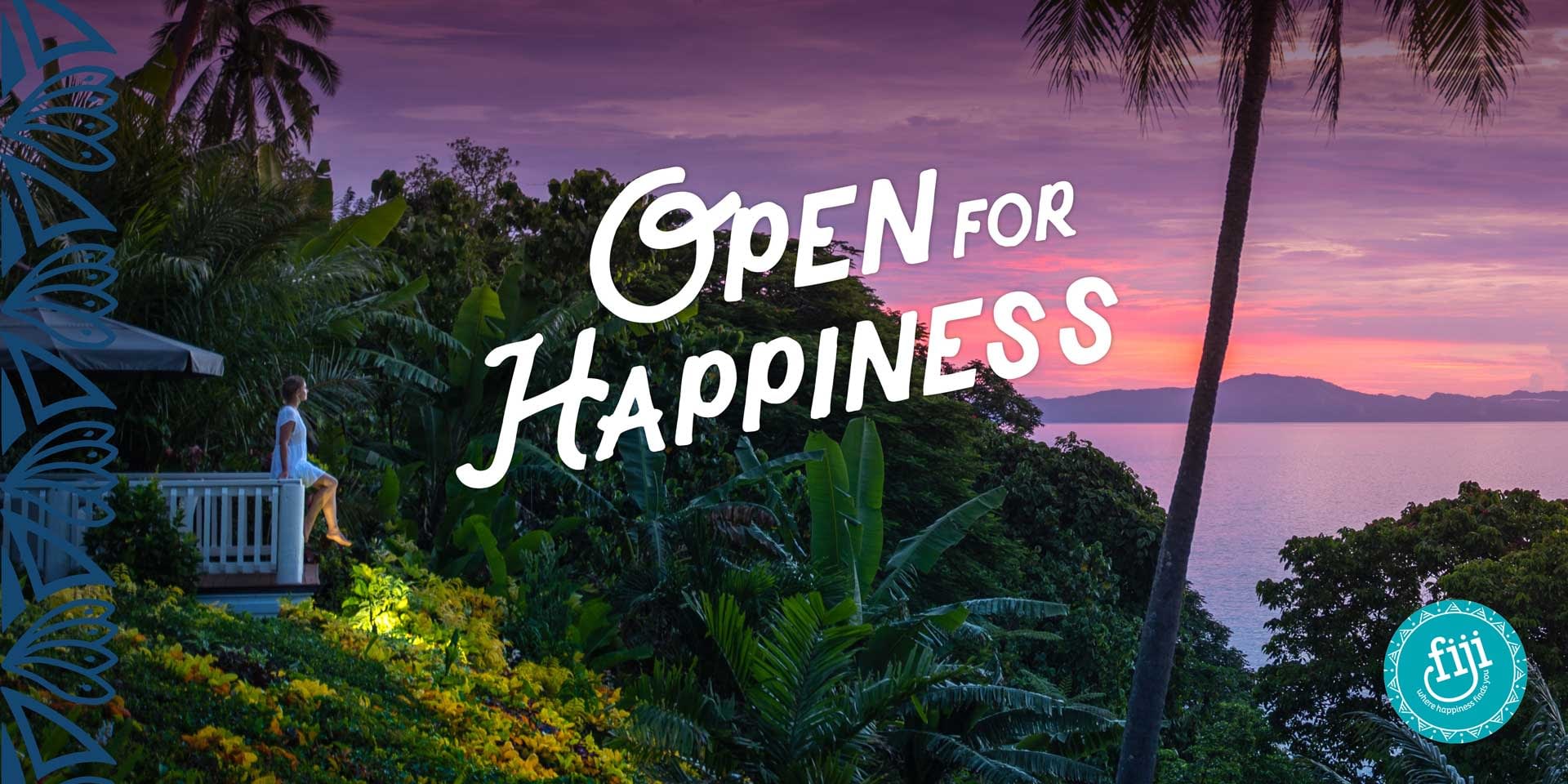 As international borders reopen to the world this week, Tourism Fiji launched the first video piece in it's Open for Happiness campaign. The team celebrated this at an event at Wyndham Resort Denarau Island, where they unveiled some of the content to crew who worked on the production as well as tourism stakeholders.
Tourism Fiji is delighted to partner with award-winning actress, comedian and producer, Rebel Wilson, the new Ambassador of our global reopening campaign.
Ms. Wilson has fond memories of visiting Fiji as a child and returned to share her love of a destination that offers so much to visitors and is largely vaccinated.
She was joined by a talented pool of Fijian cast and crew to shoot Tourism Fiji's Open for Happiness campaign in the Mamanuca Islands, where she also sampled a range of experiences.
"Rebel is a talented actress and demonstrates a unique ability to bring her own style of heartfelt humour to the ad that Tourism Fiji is creating," said Brent Hill, CEO of Tourism Fiji.
"We're delighted to have her as an ambassador who resonates with Fiji and our key tourist markets; Australia, North America, New Zealand and Europe."
Rebel hiked, did yoga, stand up paddleboarding, scenic helicopter tour, spa treatment, cocktails and visited a popular sandbar.  She was seen stepping out in some local designer wear from Samson Lee and Zuber and enjoyed the hospitality of Vomo Island Fiji.
Her destination highlights of Fiji were shared with her fanbase, including 10.3 million followers on social media platform Instagram, and helped amplify Fiji's allure as a holiday destination that has now safely reopened to international travellers on December 1st.
Filmed in Fiji over the course of last month, the campaign is the result of the collaborative work of several local partners including activity providers, talented singers, entertainers, videographers, local actors, and extras on set.
"This campaign would not have been possible without the support of our industry stakeholders, and we're pleased to showcase a global star such as Rebel and the talent of local cast and crew," said Brent Hill, CEO of Tourism Fiji.
Rebel also enjoyed a sunset cruise featuring a live performance by talented local artist, Apakuki "Kuki" Nalawa and shared snippets across her Instagram, Facebook and Twitter channels.
"With all that's happened over the last two years, tourism has been badly affected and the entertainment industry has been hit hard by this as well, – the live performance was an eye-opener, a breath of fresh air and gave us all hope that things will get better," Mr Nalawa said.
"It's so encouraging to witness a Hollywood actress and her media team enjoying not only the beauty that our country has to offer but also recognising the level of talent we have."
Tourism Fiji's Open for Happiness campaign with Rebel will be used into 2022. Further video clips will launch over the coming weeks.
Manta Ray Bay Resort & Yap Divers named #1 Value Resort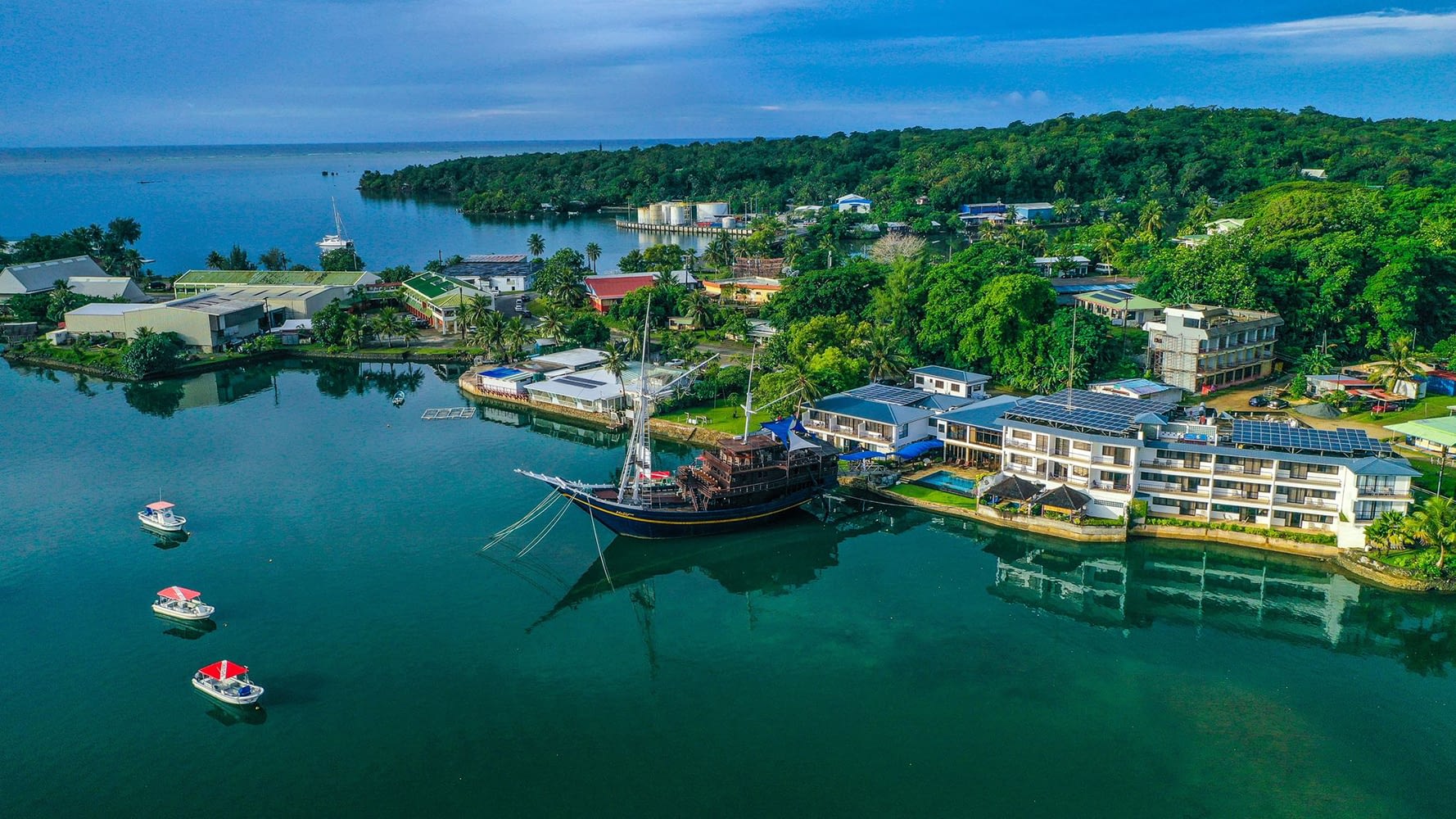 Manta Ray Bay Resort & Yap Divers has been voted the #1 resort in the Pacific/Indian Ocean region in the value-for-money category in Scuba Diving magazine's annual readers' poll of the best destinations, dive resorts, dive operators and liveaboard vessels.
To give "a better idea of consistent winners regardless of recent travel restrictions," the 29-year-old publication averaged the scores from the 2020, 2021 and 2022 surveys to arrive at the current results to inspire divers "to get back in the water and visit someplace new."
Located on the island of Yap in the western Pacific Ocean, the small, family-owned luxury resort was also named among the top ten in eight additional categories including Best Overall Dive Operators, Quality of Dive Shop Facilities, Quality of Dive Staff, Attention to Safety within Dive Operations, Best Overall Resorts, Quality of the Resort, Quality of the Rooms and Quality of the Restaurant.
"Throughout our 35-year history we've been given multiple awards, but this year's recognition is a welcome shot in the arm," said the resort's owner, Bill Acker. "This year's results combining three consecutive years of surveying show that, together with our staff, my family and I manage to give our guests the experience, service and value they expect and are looking for," Bill added.
"We were one of the first islands to close the borders and may be the last to reopen, but we'll be back stronger and better than before," said Patricia Acker, Bill's wife and cofounder.
Operating since 1986 and serving only 1,000 divers a year, Manta Ray Bay Resort & Yap Divers is Micronesia's only premier dive resort offering guests crowd-free dive sites, VIP service, spa treatments, award-winning micro-brewed beer, and a unique dining experience aboard their 120-year-old Schooner, The S/V Mnuw.
Go to Scuba Diving Magazine or #scubadivingmagazine for details of this year's Best of Readers Choice Awards. For more information about Manta Ray Bay Resort & Yap Divers, visit www.mantaray.com or #mantaraybay.
Header image: Manta Ray Bay Resort & Yap Divers by Tim Rock